Study programmes starting from February
The majority of Danish universities open their doors for students not only in September but also in February.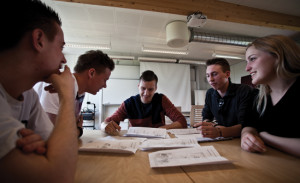 This brings several advantages to you. It is way easier to find an accommodation which suits your wishes, since there are not so many new students around the city. Moreover, the school is less busy than during September and that means more time for you and your needs :).
AP degree programmes are for everyone who has successfully finished their high school. You can apply to BA Top-up programmes in case you have finished the first 2 years of university with a similar field of study. Have you finished your college or Bachelor and would like to get a Danish Bachelor diploma within just 3 semesters? You are welcome apply as well!
The Master degree programmes are possible to study only at Aalborg University and are assigned for those who have finished their Bachelor degree in a similar field of study.
All of the programmes are not limited by the age and there is no tuition fee! Students pay only for their everyday life costs such as food, accommodation and books for studying.Read more at http://scandinavianstudy.com/cost-living/
Send your application no later than December 1, 2016! (Deadline for Masters' programmes is October 1, 2016.)
Undergraduate programmes:
ZIBAT – COPENHAGEN Surroundings:
Campus Køge:
Campus Næstved:
Campus Roskilde:
BUSINESS ACADEMY AARHUS:
Deadline for BAAA is already October 15  at 12.00!
VIA HORSENS:
IBA KOLDING:
LILLEBAELT ACADEMY ODENSE:
Deadline for this academy is December 5.
The distance between Campus Odense and Campus Vejle is 90 km.
CBA COPENHAGEN:
KEA COPENHAGEN:
UCN AALBORG:
Postgraduate programmes:
AALBORG UNIVERSITY (deadline October 1, 2016):
AARHUS UNIVERSITY (deadline September 15, 2016):
Faculty of  Aarhus  BSS
Economics and Management
Political Science
Technology Based Business Development (Herning)